MFP Seals Encourages Fluid Power Safety for National Safety Month
Monday, June 19, 2017 - 15:00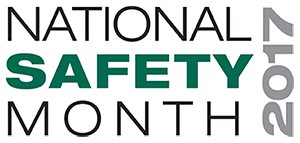 June is National Safety Month! Are you wearing your OSHA-approved safety glasses with side shields? Have you removed your watches, rings, and other assorted jewelry? With all the concern we are able to muster we hope you've discarded those open-toed shoes for something a little more workplace appropriate.
We want to talk about the importance of safety around fluid power systems. Accidents do happen, but there are always steps we can take to limit our exposure to potentially dangerous situations that arise from even a properly functioning fluid power project.
Have you recently evaluated your fluid power equipment to ensure that it's operating properly? Have you discussed proper equipment handling with your employees? Merriam-Webster defines safety as the condition of being safe from undergoing or causing hurt, injury, or loss. What better time than National Safety Month?
Fluid power systems offer tremendous opportunity, but are not without their dangers. Ensuring that proper eye, hand, and clothing safety protocols are in place at your facility will help prevent a wide-range of potential injuries including crushing hazards from high torque, rapid depressurization of a system not properly shutdown, injection accidents, and more.
An important aspect of safety in a fluid power system, be it hydraulic or pneumatic, is the use of well-made, properly fitting parts.
Here at Martin Fluid Power Seals we pride ourselves on ensuring that all of our products from FFKM O-rings to bearing tape, XS Seals, and made-to-specification sealing, are manufactured in accordance with all national and international standards using the most effective and efficient materials including the current confirmed versions of ISO 4413 (hydraulics) and ISO 4414 (pneumatics).
The MFP Seals division represents a culmination of our efforts to bring together, in-house, our Design, Engineering, CNC Machining, Injection Molding, Seal Kitting, and Die Cutting departments. Together as MFP Seals we are focused on designing, engineering and manufacturing the highest quality sealing devices, made in the USA, without the premium price.